Makar Sankranti Special Recipes
Makar Sankranti is a popular harvest festival celebrated in India. Although the festival is known by different names in different parts of the country, the zest to celebrate it remains the same. Makar Sankranti is an ancient festival of Hindus that is observed according to solar cycles. The festival denotes the entry of the sun into the zodiac sign, Capricorn (Makar), which marks the beginning of the sun's journey towards the north (Uttarayan). From this day onward, the days become longer, and the cold winter days make way for the surreal spring.
 In India, no celebration is complete without festival recipes. The same holds true for Makar Sankranti. So, why wait, when food is the topic of our discussion? In this article, you'll find some authentic Sankranti recipes. Do give them a try this year!
10 Makar Sankranti Special Recipes
The auspicious festival of Makar Sankranti is incomplete with its Sankranti special recipes. It has its own traditional and savoury treats that everyone looks forward to having. We know you want to make them too, and you can – they are simple enough to prepare at home! Here are a few Makar Sankranti recipes that are relished in several parts of our country.
1. Tilgul Vadi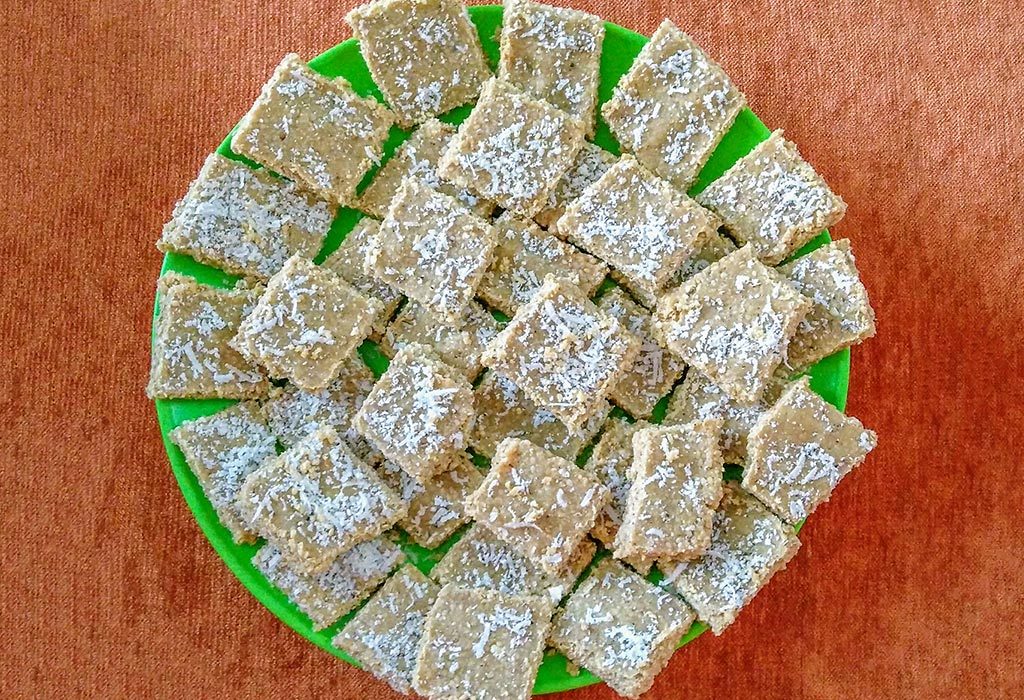 Tilgul Vadi is made with jaggery and sesame seeds and is a traditional Makar Sankranti recipe. In Maharashtra, people give this sweet to their near and dear ones, and greet, 'Tilgul ghya god bola', which means 'eat this sweet and talk sweetly or politely'. The few ingredients that go in this Sankranti recipe have a high nutritional value that is required for the seasonal change. Here's a quick Tilgul Vadi recipe for your to make this Makar Sankranti –
Ingredients:
Jaggery (Gur) – 3/4 cup
Sesame seeds – 3/4 cup
Peanuts (roasted and ground) – 1/4 cup
Ghee (clarified butter) – 1 tbsp
Milk – 1-2 tbsp
Cardamom powder – 1/2 tsp
Dry grated coconut – 1/2 tbsp
How to Make:
Roast the sesame seeds till they turn golden brown.
Allow the sesame seeds to cool; later, grind half the portion to form a coarse powder, and keep aside.
Heat a pan and melt the jaggery in it on a low flame.
Once the jaggery melts and forms bubbles, turn off the flame.
Add the sesame seeds, sesame powder, roasted and ground peanut, cardamom powder, ghee, and milk to the melted jaggery.
Stir the mixture well; it should be lumpy now.
Grease a rolling board and rolling pin with some ghee.
Transfer the jaggery mixture to the rolling board and roll it to form a circle. The flattened mixture should be thick.
Sprinkle the dry grated coconut and sesame seeds on the rolled mixture evenly, and gently roll the pin on it so that the coconut and sesame seeds get embedded in it.
Let it cool, then cut into squares.
Eat away and share this Sankranti recipe with your family members too.


2. Peanut Chikki

Peanut chikki is another favourite Makar Sankranti recipe. It is also enjoyed by those who celebrate Lohri or Pongal too. It is made with jaggery too and is a perfect sweet recipe to gorge on to keep your body warm during the winters. Let's take a look at this delicious Sankranti recipe.

Ingredients

Roasted, husked peanuts – 1 cup
Jaggery powder – 1/2 cup
Water
Ghee – 1 tsp

How to Make

Jaggery Syrup

Heat a heavy-bottomed pan and put jaggery powder in it. You can also use a jaggery block if you like.
Add some water to it.
Keep stirring the jaggery powder till it dissolves completely.
Cook the jaggery syrup on a low flame till the water has evaporated.
Then, check the consistency of the jaggery syrup – take a bowl of cold water and put a drop of jaggery syrup in it. The drop of syrup should be firm but sticky.

Peanut Chikki

When the jaggery syrup reaches the desired consistency, add peanuts to it, and mix well.
Turn off the flame and quickly pour the mixture on a plate greased with ghee.
Spread the mixture evenly on the plate using a spatula or a spoon. The flattened mixture should be around 1 cm thick.
Run a knife through the mixture to cut into rectangles while it is still warm, and let it cool.
While serving, just crack the chikki along the cuts, and you are good to go.

3. Murmura Laddoo

This is another yummy Sankranti recipe that is not only delicious but also extremely easy to make. Made with puffed rice and molten jaggery, Murmura laddoos are perfect if you want something sweet and crispy.

Ingredients

Grated jaggery – 3/4 cup
Murmura (puffed rice) – 3 cups
Ghee (clarified butter) – 1 tbsp

How to Make

Heat a pan and dry roast the murmura on low flame for 2 minutes. Transfer it to a bowl and keep aside.
In the same pan, heat the ghee on low flame and add jaggery to it. Keep stirring the jaggery until it melts.
Then add murmura and gently mix them together.
Turn off the flame and let the mixture cool.
When the mixture is warm enough to handle it with your bare hands, grease your palms with ghee, take a handful of the mixture and roll it into a laddoo.
Make all the laddoos in a similar fashion.

4. Patishapta

Makar Sankranti is known as Poush Sankranti in Bengal. On this special occasion, you will find delicious sweets in every Bengali household. Patishapta is one such yummy sweet that Bengalis make during this festival. Patishaptas are thin crepes made with refined flour, semolina, and rice flour. Read on to know the recipe to make it this Makar Sankranti –

 Ingredients

All-purpose flour (maida) – 1 cup
Semolina (rawa) – 1/2 cup
Rice flour – 1/4 cup
Milk – 2 cups
Oil as required

Filling

Desiccated coconut – 3 cups
Jaggery – 1 cup
Dry fruits
Khoya
Cardamom powder – 1/2 tsp

How to Make

Filling

Heat a deep wok on low flame. Dry-roast the desiccated coconut in the wok for 2 minutes.
Add jaggery to it and mix well. Alternatively, you can also use sugar or condensed milk.
Keep mixing the two ingredients; jaggery will take some time to melt, so be patient.
Once you notice that the coconut and jaggery mixture is not sticking to the pan, add khoya to it.
Stir it continuously for 2 – 3 minutes.
Add cardamom and dry fruits of your choice.
Mix the dry fruits and turn off the flame.
Transfer it to a wide plate, and let it cool.

Patishaptas

Take the maida, rava, and rice flour in a bowl. Mix well.
Slowly, add milk to the above mixture and keep mixing it. It should not have lumps in it.
Keep the mixture aside for half an hour.
Heat a non-stick pan and add a little amount of oil to it.
Pour a ladle full of batter on the pan, spreading it evenly. It should look like a small dosa. Once the crepe turns pale golden, flip it to cook the other side.
Take 1 to 2 tbsp of the filling in your palm; place it lengthwise in the centre of the patishapta, and cover it with the edges.
Press it gently with a spatula to give it a shape of a frankie.
This Sankranti recipe can be eaten warm or cold.

5. Sakkarai Pongal

Sakkarai Pongal or sweet Pongal is one of the many popular dishes prepared in Tamil Nadu during Pongal. It is usually made with gram, jaggery, rice, and dry fruits. Its seasonal and traditional significance makes it one of the top Sankranti recipes, especially in South India.

Ingredients

Raw rice – 1 cup
Moong dal – 1/4 cup
Grated jaggery – 1 cup
Cashews – 2 tbsp
Raisins – 1 tbsp
A small pinch of edible camphor
Cardamom powder – 1/4 tsp
Ghee (Clarified butter) – 1/2 cup
Water as required

How to Make

Dry roast the dal in a heavy-bottomed pan till it turns fragrant. Leave it to cool.
Wash the dal and rice thoroughly.
Mix them and pressure cook for 3 whistles.
Meanwhile, heat a pan and take the jaggery in it. Add some water and melt the jaggery.
Stir it well till the jaggery turns thick and sticky. Once it turns thick, turn off the flame and keep aside.
The dal and rice will be cooked by now. Remove the lid and mash them well.
Take the mashed dal and rice in a deep wok; add the jaggery syrup to it, and mix. Next, add cardamom powder to it, and cook on a low flame till the mixture starts to bubble. Turn off the flame.
Heat a pan, and add some ghee to it. Fry cashews till they turn golden-brown in colour.
Add the fried cashews, raisins, and camphor to the dal-rice-jaggery mixture and stir it.
Your Sankranti special recipe, Sakkarai Pongal is ready.

6. Puran Poli

Puran Poli is a favourite Sankranti recipe many families prepare in their households. This traditional Makar Sankranti recipe is made with some basic ingredients and is sure to delight everyone celebrating the festival. Here's what you need to make 5 to 6 palm-sized Puran Poli.

Ingredients

Chickpeas (chana) – 1 cup (soaked overnight)
Jaggery – 1/2 cup (can add more if required)
Cardamom powder – 1 tablespoon
Nutmeg powder – 1/4thteaspoon
Wholewheat flour – 2 to 3 cups
Salt to taste
Ghee – 2 tablespoons

 How to Make

For the filling, take 2 tablespoons of ghee in a pan.
Heat it and add the soaked (and drained) chickpeas.
Add the jaggery and keep stirring.
Cook the mixture till the jaggery melts.
Add cardamom and nutmeg powder and mix well.
Keep stirring on a medium flame until the mixture becomes crumbly.
Take it off the heat and mash it while it is still warm. You may use a puran yantra to mash the filling.
Now, add some water, ghee, and a pinch of salt to the wholewheat flour.
Knead it till you get a soft, elastic dough. The more you knead the dough, the more the gluten gets activated.
Cover it with a damp muslin cloth and keep it aside for 10 to 15 minutes.
Knead the dough once again for 2 to 3 minutes.
Now, take a small portion of the dough and roll it into a ball.
With the help of a rolling pin, roll it into a small roti.
Carefully keep the chickpeas and jaggery filling in the centre of the roti and pick up the sides to make a nice neat stuffed ball.
Use some dry flour so that the Puran Poli does not stick while you are rolling it to your desired size. Ensure you roll the polis ever so gently.
Then, heat a pan and spread some ghee on it.
Carefully roast the Puran Poli on medium flame on both sides.
Eat it while it is still warm with some more ghee or with milk.

7. Urad Dal Kachori

Urad dal kachori is a great Makar Sankranti recipe you can prepare as a snack. This savoury food item can help balance the festive menu. So, go ahead and make this recipe this Sankranti. Don't forget to offer some along with the Tilgul Vadi.

Ingredients 

All-purpose flour (maida) – 1 cup
Wholewheat flour – 1 cup
Baking soda – 1/4thteaspoon
Urad dal – 1/2 cup (soaked in water for 4 hours)
Ghee – 2 to 3 tablespoons
Cumin seeds (jeera) – 1/2 teaspoon
Chopped green chillies – 1 teaspoon
Chopped ginger – 1 teaspoon
Turmeric powder – 1/4thteaspoon
Red chilly powder – 1/2 teaspoon
Coriander powder – 1/2 teaspoon
Fennel seeds – 1/2 teaspoon
Asafoetida (hing) – a pinch
Salt as per taste
Water – 1 to 2 cups
Oil for frying.

How to Make

Mix the flours, baking soda and salt together.
Add the ghee and rub it into the flour mixture.
Then add about 1/2 a cup of water and start kneading the dough.
Keep adding water till you get a smooth and soft dough.
Cover the dough with a damp muslin cloth and keep it aside for 20 to 30 minutes.
For the filling, grind the soaked and drained urad dal.
In a pan, take some ghee. Add the cumin seeds, chopped ginger, chopped chillies and saute them.
Then add the dry spices – turmeric, red chilly powder, coriander powder, fennel seeds, etc. Mix well and saute it till the mix becomes aromatic.
Then, add the urad dal paste, salt and mix well.
Cook for 2 to 3 minutes and let it cool.
Then, make small equal sized balls of the urad dal mix and the flour.
Roll out the dough balls, keep the urad dal mix in the centre and bring the edges of the flour dough together in the centre. Seal the opening properly.
Flatten the stuffed balls with your hands or with a rolling pin.
Deep fry all the kachoris in oil on medium flame.
Enjoy them with some green chutney.

8. Chana Dal Khichdi

This one can be a great Sankranti Khichdi recipe you can cook this year. Often called the Punjabi chana dal khichdi or bhuni khichdi, this rice recipe will complete the Sankranti meal you'll prepare for your family. Here's what you'll need to prepare this Sankranti special recipe.

Ingredients

Basmati rice – 1 cup (soaked in water for 10 to 15 minutes)
Chana dal– 1 cup (soaked in water for 10 to 15 minutes)
Green peas – 1 cup
Mustard seeds – 1 teaspoon
Cumin seeds – 1 teaspoon
Turmeric powder – 1 teaspoon
Red chilli powder – 1 teaspoon
Ghee – 3 to 4 tablespoon
Whole red chillies – 2 to 3
Sesame seeds – 1 tablespoon
Star anise – 1
Cinnamon stick – 1 inch
Cloves – 2 to 3

How to Make:

Heat a pressure cooker on the stovetop.
Pour 2 tablespoons of ghee in it.
Add the star anise, cinnamon stick, cloves, mustard seeds, and cumin seeds – roast for half a minute or so.
Add the chana dal and roast for 3 to 4 minutes.
Add the basmati rice and roast it as well.
Add chilly powder and turmeric powder, mix and roast for another 2 minutes.
Then add 4 cups of water and some salt. Mix well and put the pressure cooker lid on.
Pressure cook the khichdi for two whistles.
In another pan, prepare another tempering with some ghee, dried chillies and sesame seeds.
Pour it over the khichdi and serve the khichdi while it's hot.

9. Tamarind Rice

Among the rice recipes, tamarind rice is a good addition to your Sankranti recipes. In the southern parts of India, this dish is also known as Puliyogare, Pulihora or Puliyodharai, and is enjoyed with meals almost daily. Read on to know how you could make Tamarind Rice this Makar Sankranti.

Ingredients

Rice – 1 heaped cup (preferably sona masuri rice, boiled in 2 cups of water)

Tamarind – 50 grams (mashed it into a pulp after soaking in 3 to 4 tablespoons of hot water for 30 minutes)

Dry red chillies – 3 to 4
Chana dal– 1 teaspoon
Urad dal– 1 teaspoon
Coriander seeds – 2 tablespoons
Sesame seeds – 1/2 teaspoon
Fenugreek seeds (methi seeds) – 1/2 teaspoon
Black peppercorns – 1 teaspoon
Asafoetida (hing)- 1/2 teaspoon

For the Tamarind rice tempering –

Sesame oil – 3 tablespoon
Groundnuts – 1/2 cup
Urad dal– 1 tablespoon
Mustard seeds – 1 teaspoon
Dry red chillies – 2 to 3
Curry leaves – 7 to 8
Turmeric – 1/2 teaspoon
Asafoetida – 1/4thteaspoon
Salt to taste
Jaggery powder – 1 to 2 teaspoon

How to Make

Gently loosen up the cooked rice in the vessel.
Add 1/4th teaspoon of turmeric, salt and about a tablespoon of sesame oil to it. Mix well and break all the lumps.
On a pan, and on low flame, dry roast all the spices mentioned above (the masalas spices).
When they turn slightly golden and aromatic, remove them and cool them in a plate.
Grind the roasted spices to a fine powder.
Now, in a separate pan, take some sesame oil (about 3 tablespoons) and heat it.
Put the mustard seeds and let them crackle.
Then add the urad dal and peanuts and roast them till they turn golden brown.
Then, add the curry leaves and the dry red chillies.
Add turmeric, asafoetida and the tamarind pulp.
Add salt and jaggery powder.
Let it boil till the oil starts floating on the curry.
Add about 2 to 3 tablespoons of the dry spice mixture and let the mixture boil till it thickens.
Now, pour this tamarind mix onto the rice and mix well.
Your Sankranti special recipe, tamarind rice is ready.

10. Lemon Rice

If you cannot find some tamarind, you can include lemon rice in your Sankranti recipes this year. Here's how you can make some.

Ingredients:

Rice – 2 cups (soaked it in water for at least 15 minutes, and boiled till it's cooked)
Fresh lemon/lime juice – 3 to 4 tablespoons
Mustard seeds –  teaspoon
Peanuts – 2 tablespoons
Cashew nuts – 2 tablespoons
Chana dal– 1 teaspoon (soaked in water)
Urad dal– 1 teaspoon (soaked in water)
Oil – 2 tablespoons
Green chillies – 1 to 2
Curry leaves – 8 to 10 leaves
Asafoetida (hing) – 1/4thteaspoon
Ginger paste – 1 teaspoon

How to Make:

Loosen up the cooked rice in the pressure cooker with a spatula. You may bring it down to room temperature before doing the next step.
Pour some oil, add salt and the lemon juice over the rice and mix.
In a pan, take some oil and heat it on medium flame.
Add the chana dal, urad dal, cashews and peanuts to the oil and roast them till they turn golden brown.
Then, add the mustard seeds. Let them crackle.
Add the green chillies, ginger paste and curry leaves.
Add turmeric and asafoetida.
Pour this tempering on the rice and mix everything well.
Savour this tempting rice preparation with some papad, yoghurt and pickle along with other Sankranti special recipes.

These are some Makar Sankranti recipes you can make this year. These recipes come from most parts of the country where Makar Sankranti is celebrated, but with different names. Give the store-bought sweets and snacks a miss this year. Instead, make them at home. Keep the menu simple yet delicious and include all the Sankranti special food items to make the most of the auspicious occasion. Happy Makar Sankranti!

(this news is taken from https://parenting.firstcry.com for knowledge basis and news updates)